Battle of the Proxies



Season

4

Episode

10

Previous

Next
Battle of the Proxies is the 79th episode of the Good wife.
Will and Alicia are arguing a case for which two people are being prosecuted. One in Chicago and one is a small state near. Alicia goes out to help the prosecution in Minuscia.
Kalinda is having trouble with her husband after she finds out a big secret about his buisness,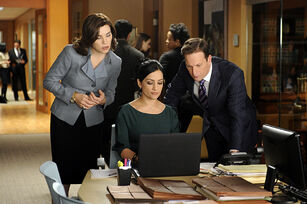 Series Regulars
Edit
Ad blocker interference detected!
Wikia is a free-to-use site that makes money from advertising. We have a modified experience for viewers using ad blockers

Wikia is not accessible if you've made further modifications. Remove the custom ad blocker rule(s) and the page will load as expected.