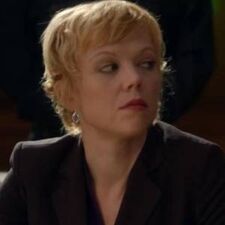 Bree is a fictional character on the TV series: The Good Wife.
Biography
Edit
Along with Cary Agos and Alicia Florrick, she is one of many lawyers wanting a job at Stern, Lockhart & Gardner. She appears to be one of the more worried about being cut people, and it has been made clear that the two prime candidates for the job are Alicia and Cary.
When Alicia thought that 6 year death row inmate Clarence Wilcox had been falsely accused, Bree helped her write an appeal. She is seen worried about been cut when all of the potential applicants are watching Will and Diane talking, they bring Alicia into their office and Bree thinks they are going to cut her.
References
Edit
Ad blocker interference detected!
Wikia is a free-to-use site that makes money from advertising. We have a modified experience for viewers using ad blockers

Wikia is not accessible if you've made further modifications. Remove the custom ad blocker rule(s) and the page will load as expected.