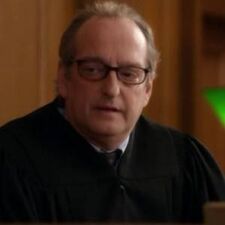 Richard Cuesta is a Cook County criminal court judge.
Biography
Edit
In Pilot, after the sex scandal surrounding Peter Florrick, when Alicia Florrick returns to her old job as an attorney, Judge Cuesta presides over a case involving a woman accused of killing her ex-husband and trying to cover it up with a fake carjacking. The previous trial ended in a hung jury which, her lawyer Alicia Florrick learns, was very much leaning toward conviction. Judge Cuesta informs Alicia that he and Peter Florrick "never saw eye-to-eye," but states that that will not prejudice him in his dealing with Alicia. Alicia looks to open up a new line of defense against the advice of the firm's senior female partner who previously handled the case. Alicia won the case and the charges were dropped.
In Conjugal, he returned during the case of Clarence Wilcox, after six year on death row after being accused of shooting a cop. He is annoyed when the case is reopened because he thought his verdict was good enough. It is revealed that Judge Cuesta has a Bulls sweater and eventually he dropped the charge against Clarence.
Judge Cuesta appears in Doubt and Bad Girls.
In The Penalty Box, Judge Cuesta is defended by Lockhart/Gardner when he is accused of prosecutorial miscoduct in a cases he prosecuted twenty years ago when he was an assistant state's attorney.
Background
Edit
Judge Cuesta is played by character actor David Paymer. He is the first judge to appear on The Good Wife.
References
Edit
Ad blocker interference detected!
Wikia is a free-to-use site that makes money from advertising. We have a modified experience for viewers using ad blockers

Wikia is not accessible if you've made further modifications. Remove the custom ad blocker rule(s) and the page will load as expected.