The CBS All Access series The Good Fight picks up one year after the events of the final broadcast episode of The Good Wife. It is CBS All Access' first original scripted series. The series is created by Robert King and Michelle King. The first season contains 10 episodes, and premiered on February 19, 2017, with the first episode airing on CBS and the latter nine episodes airing on CBS All Access.
An enormous financial scam has destroyed the reputation of a young lawyer, Maia Rindell, while simultaneously wiping out her mentor and godmother Diane Lockhart's savings. Forced out of Lockhart & Lee, they join Lucca Quinn at one of Chicago's pre-eminent law firms. The series, from The Good Wife creators Robert and Michelle King, stars Christine Baranski, Cush Jumbo, Rose Leslie, Delroy Lindo, Sarah Steele, Justin Bartha, Erica Tazel, Paul Guilfoyle and Bernadette Peters.
Main Cast
Edit
Christine Baranski as Diane Lockhart, who loses her savings after an enormous financial scam and must join Lucca Quinn at one of Chicago's pre-eminent law firms.
Rose Leslie as Maia Rindell, Diane's goddaughter who joins Diane's firm just after passing the bar. Maia and her parents are the unofficial First Family of Chicago. She is Amy's girlfriend.
Erica Tazel as Barbara Kolstad, founding partner at Reddick, Boseman, & Kolstad, the law firm Diane and Maia move to after the financial scandal.
Sarah Steele as Marissa Gold, who begins as Diane Lockhart's secretary, but finds she has a knack for investigating.
Cush Jumbo as Lucca Quinn, who begins to work with Diane at one of Chicago's pre-eminent law firms.
Delroy Lindo as Adrian Boseman, an attorney who starts poaching Diane Lockhart's associates and clients when she gets into financial trouble and threatens her ability to stay in business.
Justin Bartha as Colin Morrello, a successful lawyer in the State Attorney's office and rival/potential love interest of Lucca.
Recurring Cast
Edit
Paul Guilfoyle as Henry Rindell, Maia's father, who is a wildly successful financial advisor and is phenomenally wealthy and universally loved. He, Lenore and Maia are the unofficial First Family of Chicago. In the pilot, he is arrested for running a giant Ponzi scheme with Diane one of his victims.
Bernadette Peters as Lenore Rindell, Maia's mother who comes from a tough working-class background and is a natively brilliant financial whiz. She, Henry and Maia are the unofficial First Family of Chicago.
Gary Cole as Kurt McVeigh, Diane Lockhart's husband.
Zach Grenier as David Lee
Jerry Adler as Howard Lyman
Carrie Preston as Elsbeth Tascioni, a smart yet quirky lawyer
Michael Boatman as Julius Cain
Heléne Yorke as Amy Breslin, an assistant state attorney and Maia's girlfriend.
Nyambi Nyambi as Jay Dipersia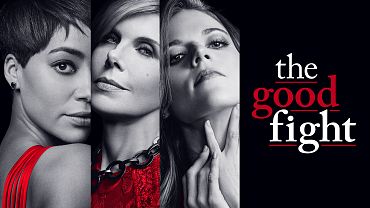 Ad blocker interference detected!
Wikia is a free-to-use site that makes money from advertising. We have a modified experience for viewers using ad blockers

Wikia is not accessible if you've made further modifications. Remove the custom ad blocker rule(s) and the page will load as expected.